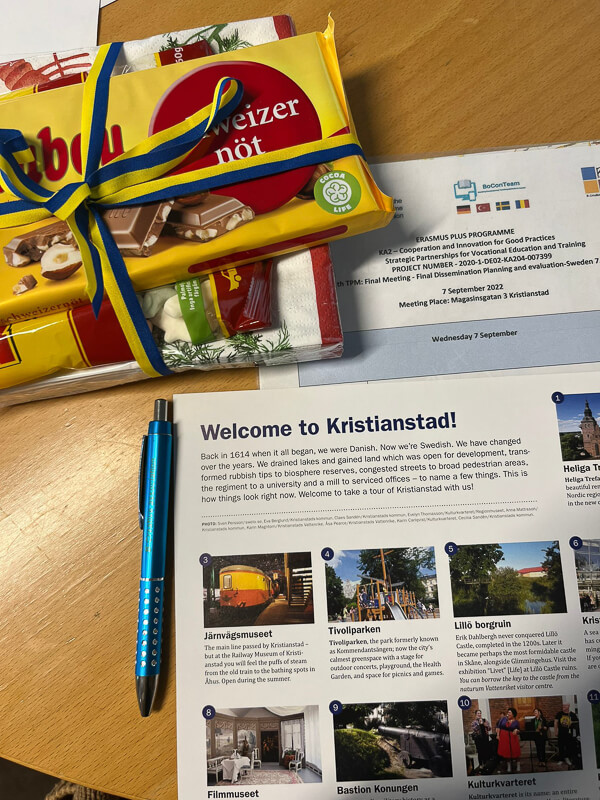 The 3rd TPM of the BoConTeam project took place in Kristianstad, Sweden, between the 7th and 8th of October 2022.
All partners were present at this meeting and discussed important aspects regarding the dissemination activities that had been done or will be done in the remaining time frame of the project.
Another topic that the meeting covered was the project results and its longevity plan, since the end date of the project is approaching. All questions were made clear, and the partners left the meeting knowing what needs to be done next.
Besides the technical aspect of this meeting, Be Creative Association – the host of this TPM, organized a traditional Swedish lunch for the participants that included food that is typically served at Midsommar – a very popular holiday celebrated in Sweden. The hosts also organized a guided tour of the Naturum – one of the most emblematic places in Kristianstad where the participants could see the importance of integrating technology into learning activities.
Day 1 - Wednesday, September 7
Time

Activity

10:00 – 12:00

Welcome to B-Creative and Kristianstad
Potential issues will be mulled over, and course corrections will be agreed upon and implemented.

12:00 – 13:00

Traditional Swedish lunch at the meeting place

13:30 – 14:30

Guided tour at Naturum in Kristianstad

14:30 – 17:00

Discuss the dissemination activities of this stage will be clarified and agreed upon by the partners.

17:00 – 19:00

Surprise in the health Garden
Day 2 - Thursday, September 8
| | |
| --- | --- |
| Time | Activity |
| 10:00 – 12:00 | Project results' Longevity plan will be discussed and implemented as agreed |
| 10:30 – 11:00 | Coffee break |
| 12:00 – 13:30 | Lunch |
| 13:30 – 15:00 | The final internal evaluation will be done to help also preparing the final report. |
| 15:00 – 15:30 | Coffee break |
| 15:30 – 16:00 | Certificates and end of the meeting. Thank you! |