26.-27. 07. 2021 at Rogepa Office, Cluj-Napoca / Roumania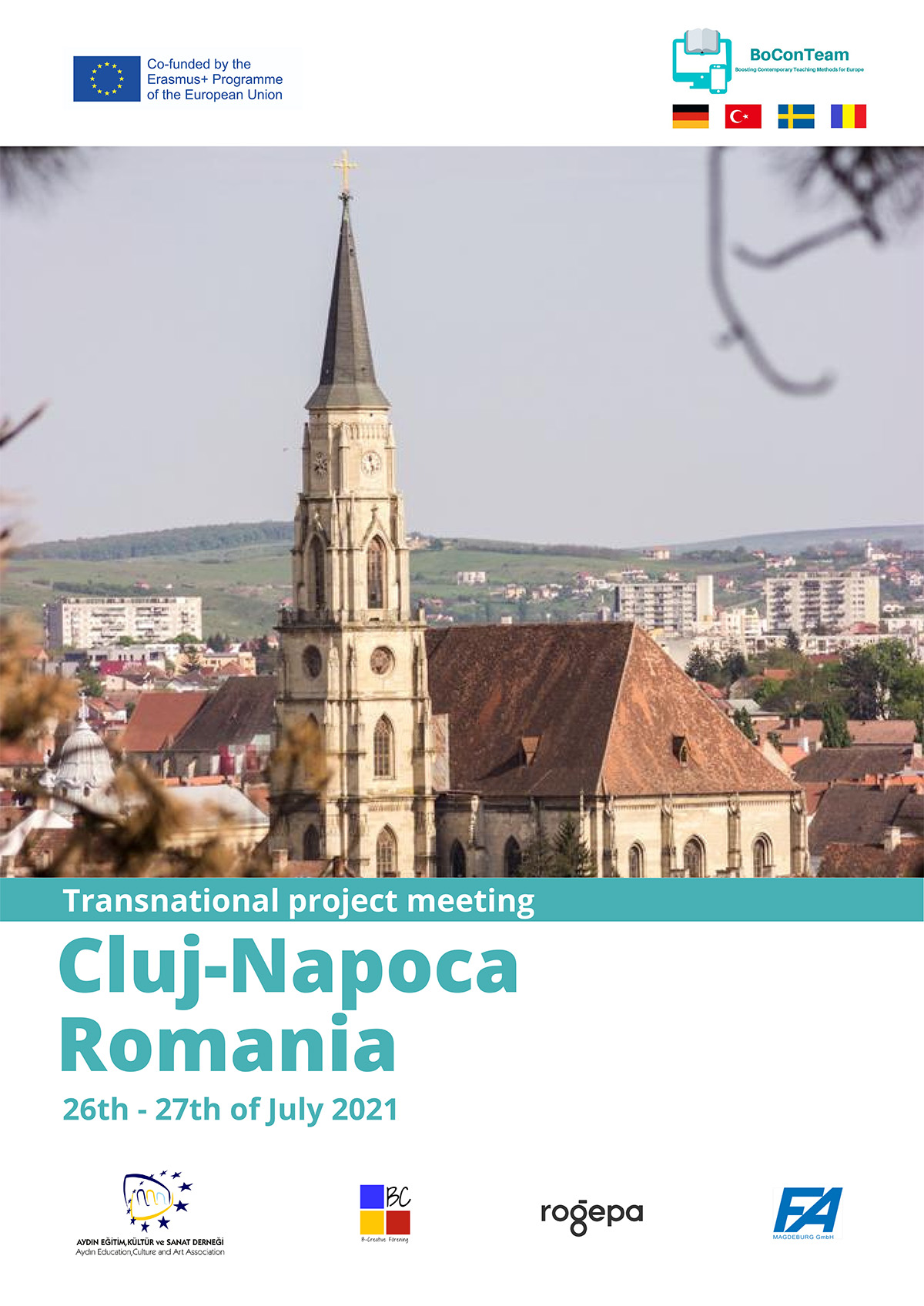 The Transnational Project Meeting took place in Cluj-Napoca! We are happy to come together with our transnational partners Åsa Hedlin Olsson and Ingmarie Rohdin, from Be – CREATIVE ASSOCIATION, Sweden, Burcu Demirkiran and Ahmet Yavuz, from AYDIN EĞİTİM, KÜLTÜR VE SANAT DERNEĞİ, Turkey and Ralf Sachsenmaier and Liviana Marinescu from FORTBILDUNGSAKADEMIE, Germany.
and to give a first overview about our activities for next time!
AGENDA OF THE 1st TRANSNATIONAL PROJECT MEETING 26th – 27th of July 2021

Date / Time
Activity
Responsible

Monday 26 July 2021

Arrival of participants
19:00
Welcome Dinner
Contact People for support
Sabău Larisa +40765387274
Sabău Carla +40741653149

Tuesday 27 July 2021

Rogepa office: Bd. N. Titulescu, nr.4, cam.55, Cluj-Napoca
09:00 – 09:15

Registration of participants, Welcome, Introduction, organizational tasks


Sabău Larisa – Rogepa
09:15 – 10:00
Brief presentation of the partners and participants
Ice breaking activity
Sabău Rita – Rogepa
All Participants
10:00 – 11:00
Project presentation
Project overview
Liviana Marinescu FA – Magdeburg GmbH
Feedback from each partner
11:00 – 11:30
Coffe break
12:00 – 12:30

Disemination and communication plan, project website, social media
Liviana Marinescu – FA-Magdeburg GmbH
Participants
12:30 – 13:00

Work plan and next activities, needs assessment
Liviana Marinescu – FA-Magdeburg GmbH
13:00 – 13:15
Management and financial rules
Vlad Marinescu – Rogepa Sabău Rita – Rogepa
13:15 – 14:30
Lunch
15:00 – 19:00
Cultural activities
Sabău Carla – Rogepa Sabău Larisa – Rogepa
19:00
Dinner

Wednesday 28 July 2021

Departures of participants